Choose the Best Bus Advertising Agency in India for the Best Results
Advertisement on the bus is one of the most conventional advertising mediums across the globe. Buses move across the city and extend their network to the suburbs and outskirts. Bus ads in India give you the necessary exposure to your brand and take brand building to a whole new level.
If you've got a brand, and want to take it to the next level, choose Prajapati Advertising, the best bus advertising agency in India. We do what it takes to help you reap optimal bus branding benefits. Our bus advertisement strategies, services, and bus ad campaigns help you create a more extensive outreach for your brand and enable you to take your brand to every prominent street of the city.
Why choose Advertising on Buses in India?
India is a large country with extensive public transport infrastructure, out of which bus transport is an important one. Buses have a relatively broader outreach and empower brands with better brand visibility. But that's not the only reason to choose bus advertisement. Here are some more reasons to select bus branding in India to enhance brand awareness through bus ads in India.
Better Visibility: Buses offer better visibility. You can advertise your brand across the entire interiors and exteriors of the bus through panel advertising services.
Large-Sized Banners and Bus Wraps: You can post large-sized banners or brand the entire bus through bus wraps for enhanced brand promotion.
Wider Geographical Reach: Buses take your brand outside the city as well. They reach towns that taxis or auto rickshaws may not, owing to local rules and regulations.
Bus is the Common Man's Mode of Transport: In India, a large chunk of people still uses bus transport to commute from one place to another. This is the reason why buses reach a larger amount of people, and why bus transit advertising and bus stop advertising is so popular even today.
Why is Prajapati Advertising the Best Bus Branding Agency in India?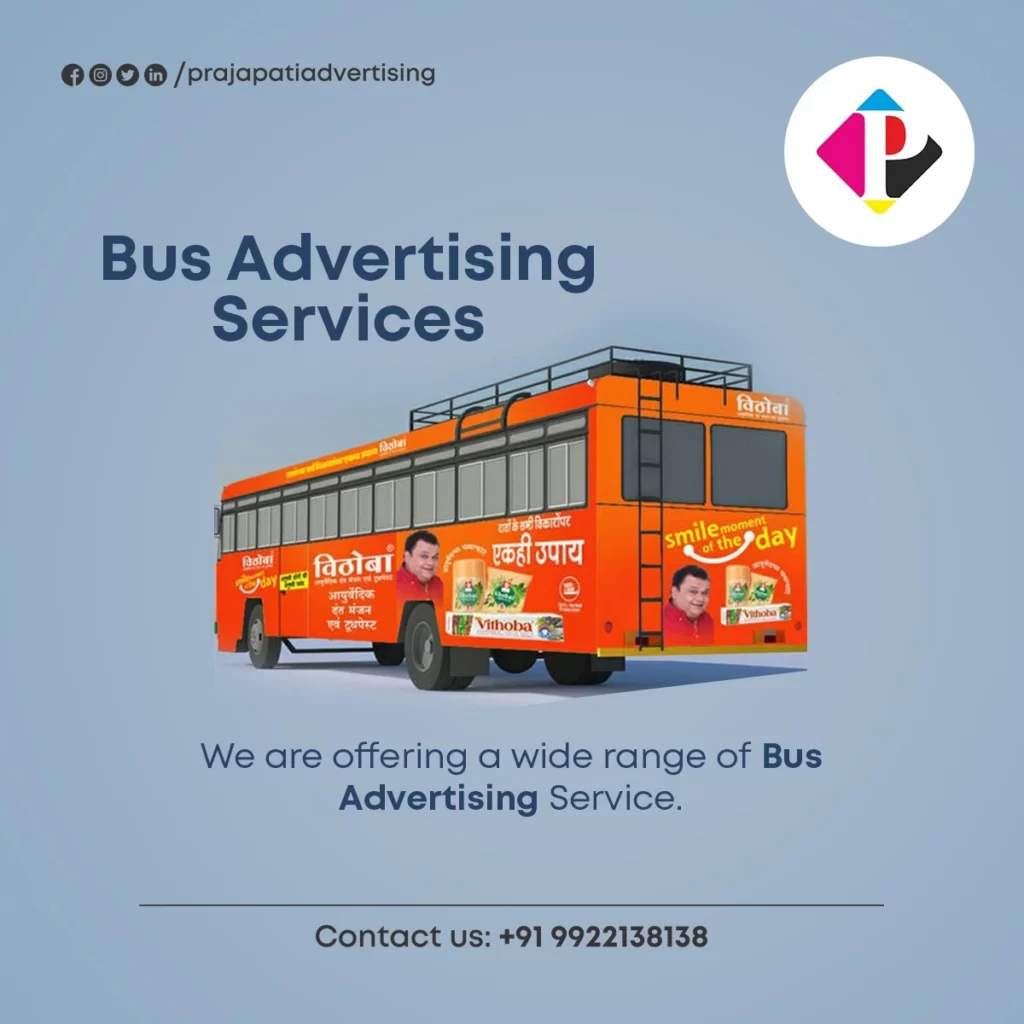 We are the leading bus advertising agency in India, and we support this with a lot of reasons which we give as to why you must choose as your bus branding partner.
We create Optimal Outreach for your Brand: Our extensive contacts help you advertise your products and services across city buses, state transport buses, AC buses, non-AC buses, and private buses as well. We leave no stone unturned to help you leverage mass advertising to your benefit.
Wide Range of Bus Advertising Services: Our bus Ads services include partial and full bus adverts, including T-sides, street liners, full wraps, super sides, bus shelters, and rear and mega rears. This is one reason why we are a comprehensive bus advertisement partner.
Cost-Effective Bus Advertising Packages Affordable for every Business: Our bus Advertise packages are cost-effective and flexible. Besides, we customize our packages and services to suit your needs to help you promote your brand through bus Branding.
Bus Advertising Strategy: Our expertise isn't confined to bus Advertisement services. We've been in the advertising business for years. Our experience helps us understand what works and what doesn't when it comes to advertising for various companies. We continue to work with several brands across almost every major city of India. It enables us to strategies bus branding for you. As bus advertisement experts, we assist you with our strategic expertise which helps in various ways such as market research, customer segmentation, and branding strategies, and many others.
Network Presence across the Country: We are present across almost every major city of India. This comes in as an advantage for you if you are looking forward to taking your brand across every nook and corner of the country.
If you want to promote through bus branding and search for the best agency for bus advertising in India, connect with Prajapati Advertisements. Our range of services, expertise, experience, and network presence across the entire nation will help you advertise your brand in the best way. With us, you enjoy maximum brand visibility and the best results in the long run.